The Londolozi Ripple Fund is very close to all of our hearts, as we are creating change for so many entrepreneurs and their community's lives. With your generous donations, we support entrepreneurs and encourage them to thrive.
When you visit Londolozi, you are doing far more than immersing yourself in a thrilling wildlife safari experience; you are contributing to developing the socio-economic wellbeing of a whole human ecosystem. Community upliftment, rural education, healthcare and the protection of a"safe haven" in which rhinos and other iconic species can roam freely, are just a few of the ways in which your safari can profoundly impact conservation and the quality of life of the families living in the villages surrounding Londolozi.
The Londolozi Ripple Fund currently supports four farms in the surrounding areas of Londolozi. Each farmer is in a developmental stage of their craft, and with a little bit of help, resources, and funding, their farms and projects have truly been given an opportunity to thrive. Slowly but surely, each farmer is not only expanding their operation, but they are comfortably running their business and succeeding in ways they never deemed possible, all thanks to you, our generous Londolozi global tribe.
So without further adieu, this is the Ripple Effect that you have had on the Ripple Fund Farmers in the last few months.
Nkhensani Dlamini
Easily the friendliest face you'll ever see, and the most gracious and kind woman, Nkensani is a young female entrepreneur pioneering the way forward in organic farming in her area. Not only is she wholeheartedly committed to up-skilling herself, but she also shares her knowledge on permaculture and farming with her community members and influences other farmers to cease using pesticides on their crops. This is so that the river she uses to water her own vegetables is clean and completely organic. With the help of the Londolozi Ripple Fund, Nkhensani sells her 100% organic produce to neighbouring communities and local businesses – Londolozi being one of them.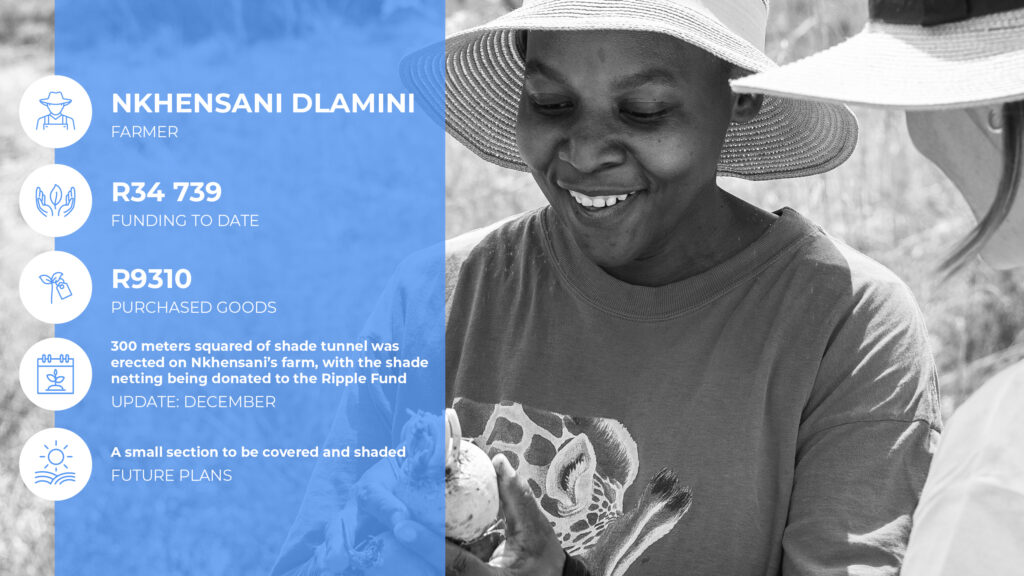 David Shilabe
David is a gentle-spirited self-taught entrepreneur, who will always greet you with the warmest smile. His farm is a haven, sprouting healthy vegetables and plants. His farm thrives, and with the right level of support, David has the potential to supply hundreds of kilograms of fresh vegetables within a 10km radius of his customers, Londolozi being one of them. Through the Londolozi Ripple Fund, David has been able to grow his business, erect tunnels, and shade netting so that his produce can thrive, all thanks to the Londolozi Ripple Fund.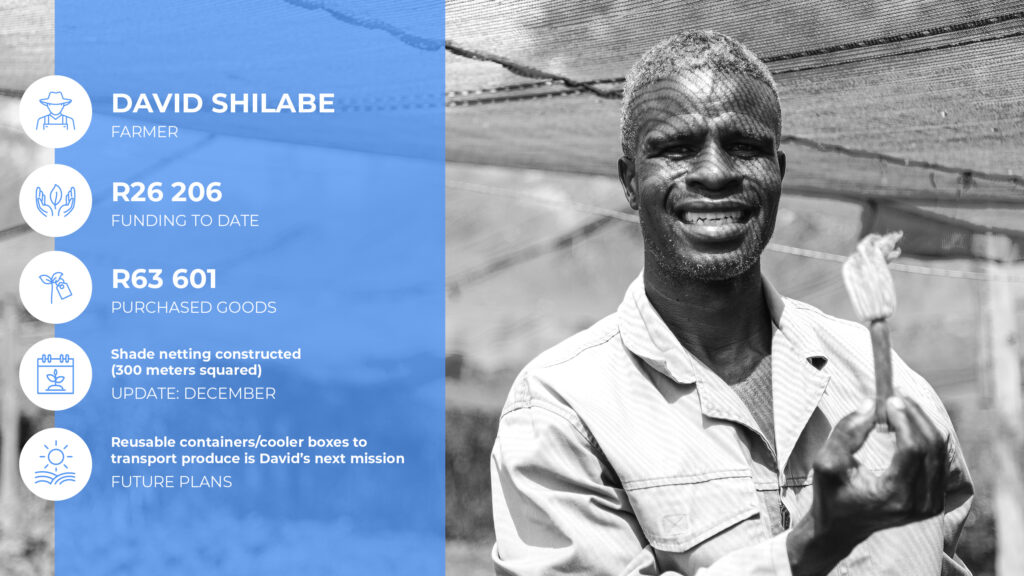 Frank Mkwakwa
On an almost completely barren empty plot of land, houses the beginnings of a full-scale permaculture farm. Frank has a small self-built chicken coop with happy hens, and supplys Londolozi with fresh, local, free-range eggs. With years of chicken-farming experience under his belt, Frank dreams of building a more sustainable business for himself and his chickens. He too, creates his own ripple effect within his community, and with the right backing, will truly see his business thrive.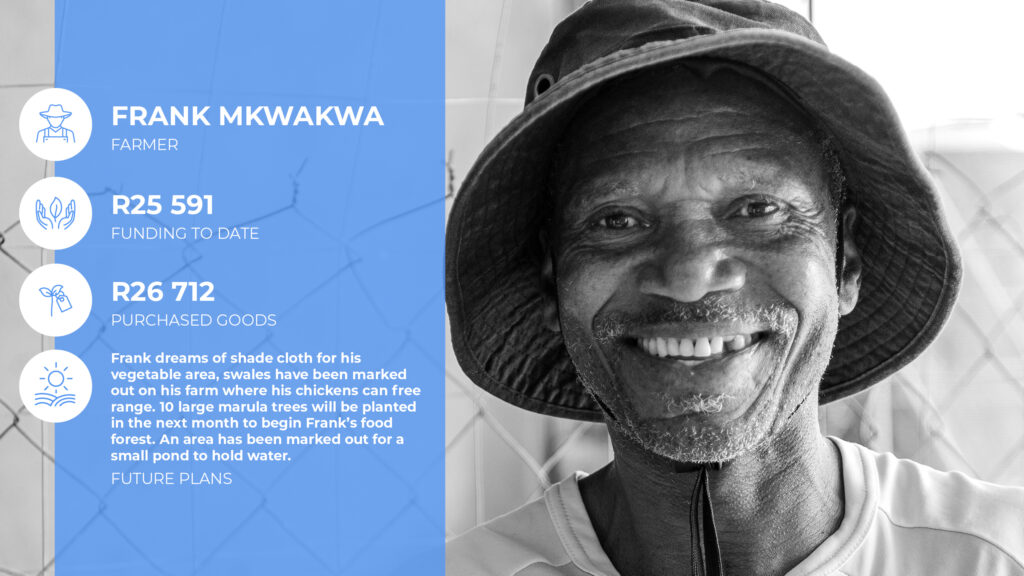 Mathebula Family Egg Farm
As a family-owned and run business, we love what the Mathebula's have created on their farm – working together towards a common goal. Through the help of the Londolozi Ripple Fund, this family has been able to create a sustainable chicken farm and involve others in their community – creating a lasting impact around them.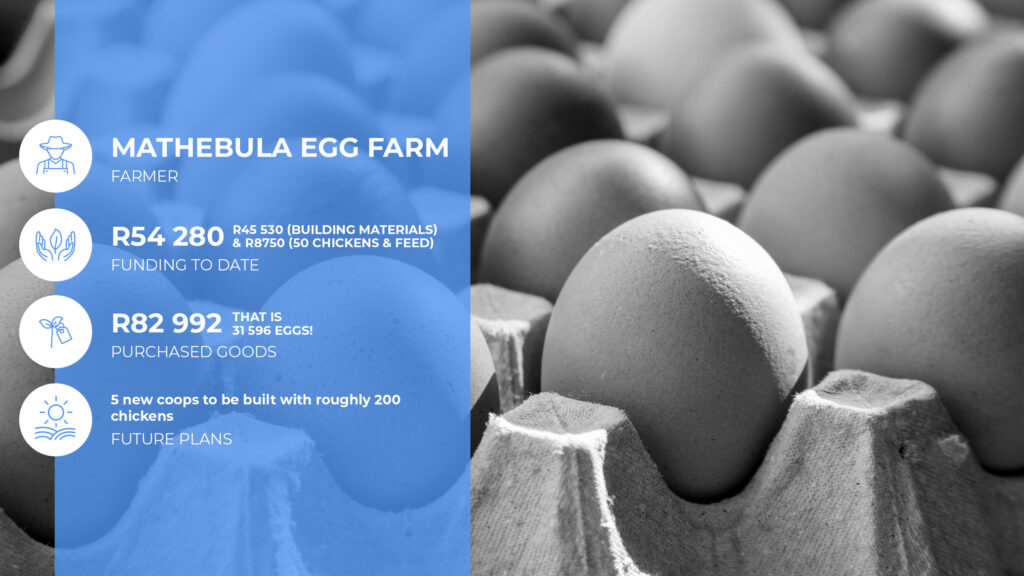 We have chosen to support these various farmers, because of their dedication and complete commitment to sustainability, ethical treatment of animals, upliftment in their own communities, and their dedication to their craft. None of this would be possible without the global tribe of Londolozi Ripple Fund supporters.
Stay in the Ripple
To stay connected, we have established a Londolozi Ripple Fund Impact site where you can follow regular updates on projects and donations as they unfold and follow work that has already been successfully completed. If you would like to receive the Londolozi Ripple Fund Impact newsletter, please let us know on ripple@londolozi.co.za
*The Ripple Fund is a private fund, administered by Londolozi, that provides seed funding without taking any fees. Your entire contribution will be provided to the cause that you choose. Should you require a tax certificate for your contribution, please donate to one of our two official NGO partners, The Good Work Foundation or The Tracker Academy.