In celebration of Women's Month, we are shining a light on the golden thread of women that form part of our global Londolozi family.
In a world that is ever-evolving and dynamic, there are individuals whose stories shine brightly, inspiring us to rise above challenges, embrace our passions, and radiate positivity.
Meet Nkhensani Dhlamini, a true embodiment of an inspirational woman, entrepreneur, businesswoman, and golden soul, who stands as a testament to the incredible power of illuminating paths for others to follow.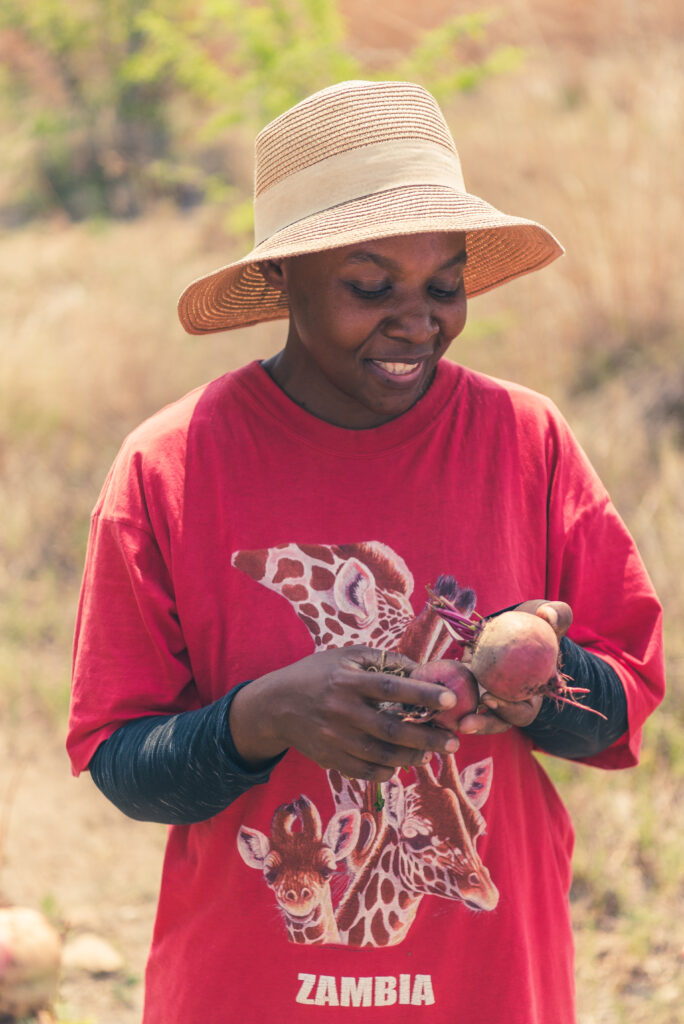 Nkhensani's story is one of inspiration, rooted in her deep connection with the earth and her unwavering determination to make a positive impact. Growing up amidst the lush landscapes of the Greater Kruger area, Nkhensani's bond with nature was cultivated from a young age. Her fascination with the intricate balance of ecosystems and the potential of regenerative agriculture led her on a path less travelled – running her own business as an organic farmer. But not before she received her honours degree in finance…
Nkhensani grew up in Bushbuck Ridge, just 6 kilometres from Londolozi. She smiles broadly as she recounts childhood memories spent at her grandparent's farm.
My grandparents were subsistence farmers, and I always loved visiting them there. I think that's where my interest for agriculture started, I was truly fascinated with it all.
Nkhensani describes her younger years with such joy in her eyes. During her schooling years, her dad purchased an avocado farm when she was 16 years old.
Now, that's where my love of farming really hit!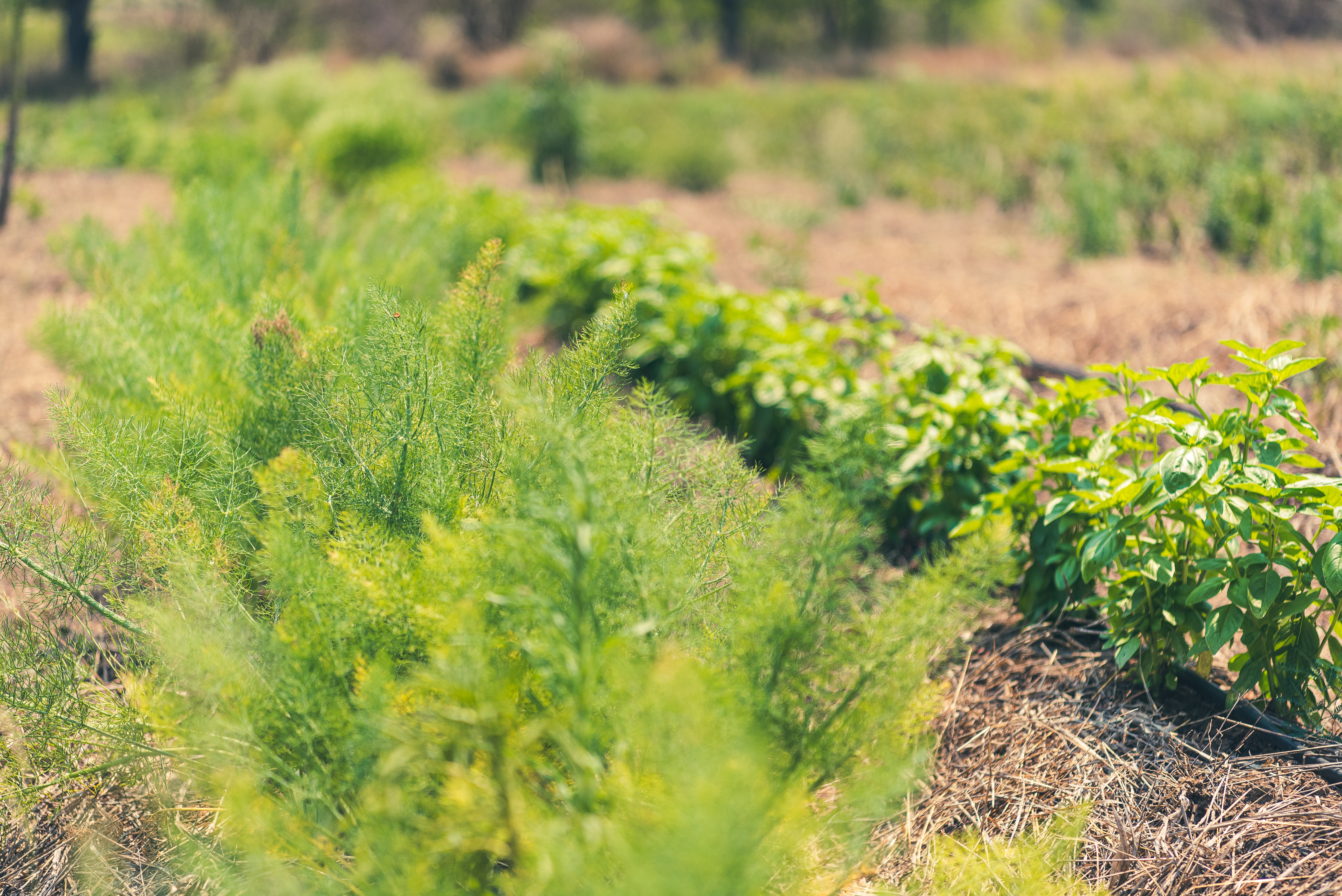 Planting the seeds of change
Throughout school, Nkhensani took accounting and economics, and after matriculating from Lowveld High School in 1998 she decided to take a gap year to improve her maths mark in the hopes of getting into the course she was interested in.
My dad was in the world of corporate business during that time, and my little sister and I had always aspired to study accounting so that one day we could help him with the business, and taking a year to improve my maths mark was what needed to be done
In 2000, Nkhensani attended the University of Pretoria and graduated with a BCom financial accounting degree. From 2003 to 2005, she completed her honours in financial management sciences. Not only was she studying for her honours, but she was also working during the day for the South African Revenue Service (SARS) and completing her studies at night – an absolute powerhouse!
After completing her honours, she worked as a junior tax accountant in Johannesburg for Deloitte.
I really enjoyed that time of my life, and then one day I received a call from KPMG Hatfield in Pretoria. Pretoria felt like home, so I returned and also worked as a tax manager. A while later, I then found myself in Middelberg at Columbus, which was a graduate programme – I wanted to learn more and more about the finance world. It was an 18 month training programme where I was able to experience every aspect of the finance team. When I had just 6 months left of the program their tax accountant resigned, and guess who they called? Me! I was then working as their tax accountant from 2008 – 2012.
Sadly, Nkhensani's father passed away, and after time spent in Pretoria, Johannesburg and Middelberg, she was eager to return home to her roots.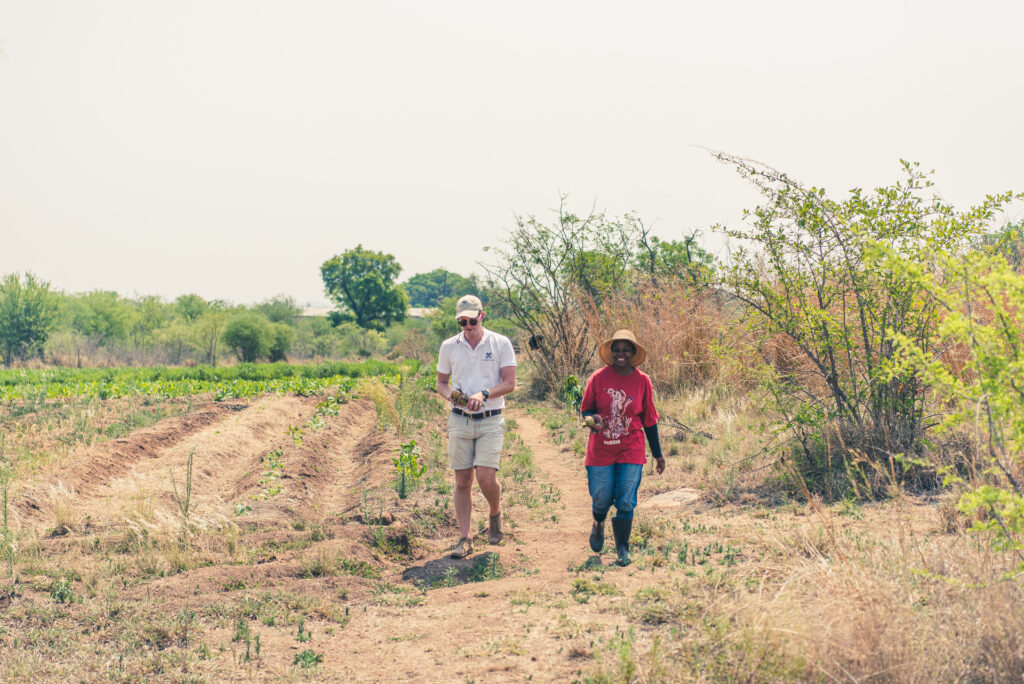 Visionary farming for a sustainable future
My journey to farming was very natural, it wasn't something that just happened overnight. My original plan when my father passed away was to come home and help the family business, and I started thinking about how much I'd love to live out my dream of becoming a farmer. I definitely got my love of farming from my Dad, and it just felt right to persue my passion while using my degree to start my own business
In 2012, Nkhensani took a huge leap of faith and left the corporate world, and began her farming journey. Together with her sister, Cindy, they have created a beautifully productive organic farm. This has not come without its challenges, but Nkhensani's resilience and never-back-down attitude is what we at Londolozi are so inspired by.
"There is no limit to what we, as women, can accomplish" – Michelle Obama
From my experience, if you want to do something, do it! It can be scary, but extremely rewarding too. Block out what other people have to say, if you believe in yourself, thats all that matters.

In those early days, I was blown away by how much I started learning about farming. I was guided by the Department Of Agriculture on the importance of soil, soil samples, pest control – you name it! I started seeing the impact on my land, and all the lessons I've learnt over the years have led me to where I am now – working in one with nature. I have zero chemicals on my farm, no chemical fertilisers or chemical pest control – its a really great feeling.
Nkhensani's approach to organic farming is a living testament to her visionary approach to agriculture. Through the implementation of regenerative techniques, she has created a vibrant oasis that harmonises with the natural rhythms of the land. Nkhensani's farm stands as a beacon of hope for a more sustainable and resilient future.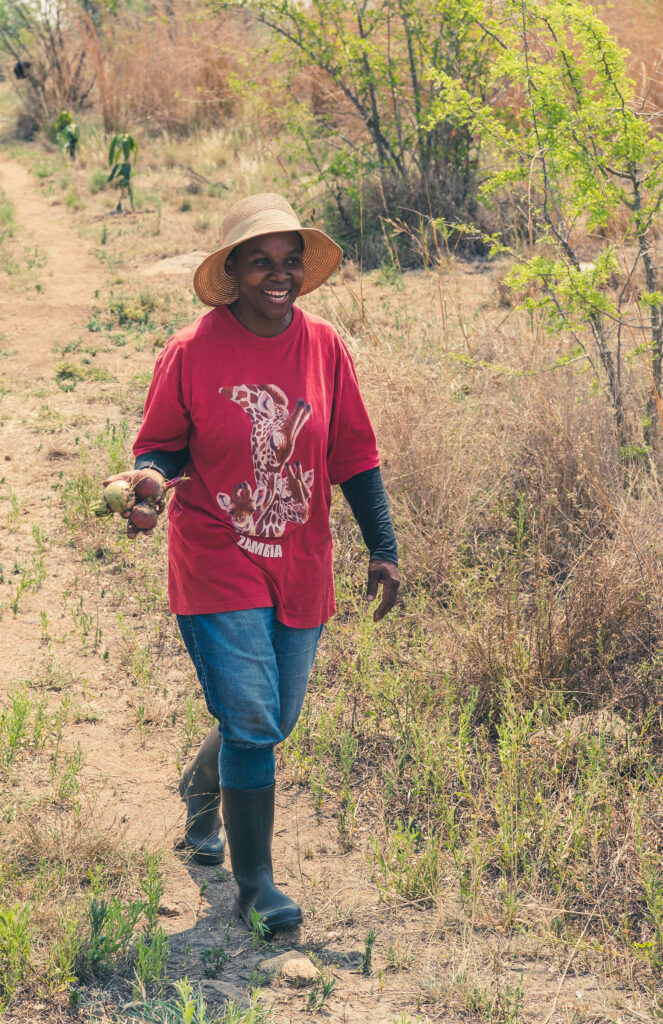 Empowering Dreams
Nkhensani is one of four farmers that works in conjunction with the Londolozi Ripple Fund. With the support of the fund and our generous global Londolozi family, she has received assistance in setting up infrastructure like shade netting and most recently received a water pump that will assist her irrigation methods hugely.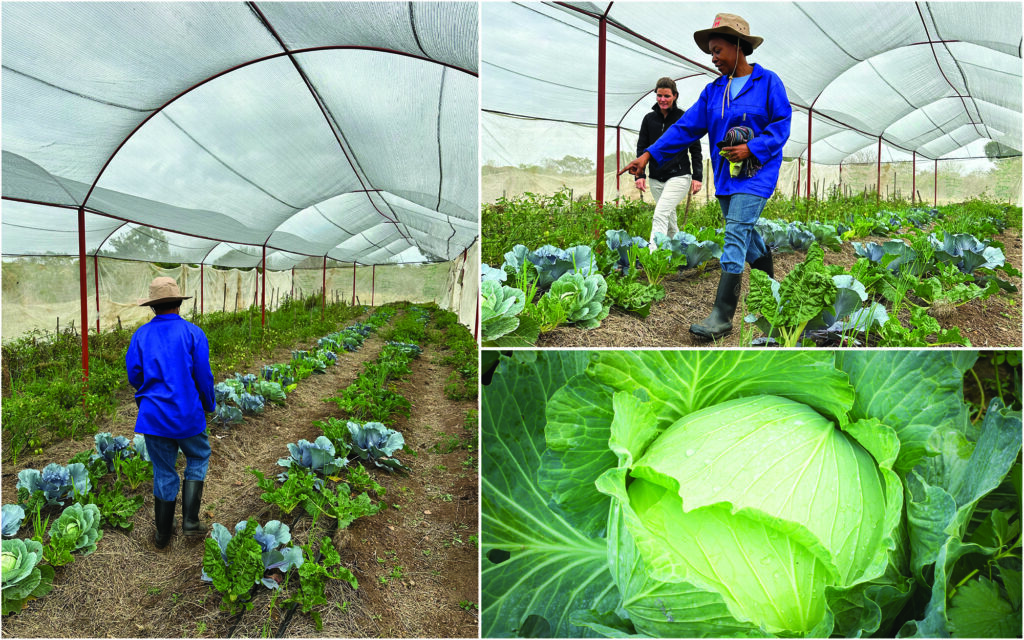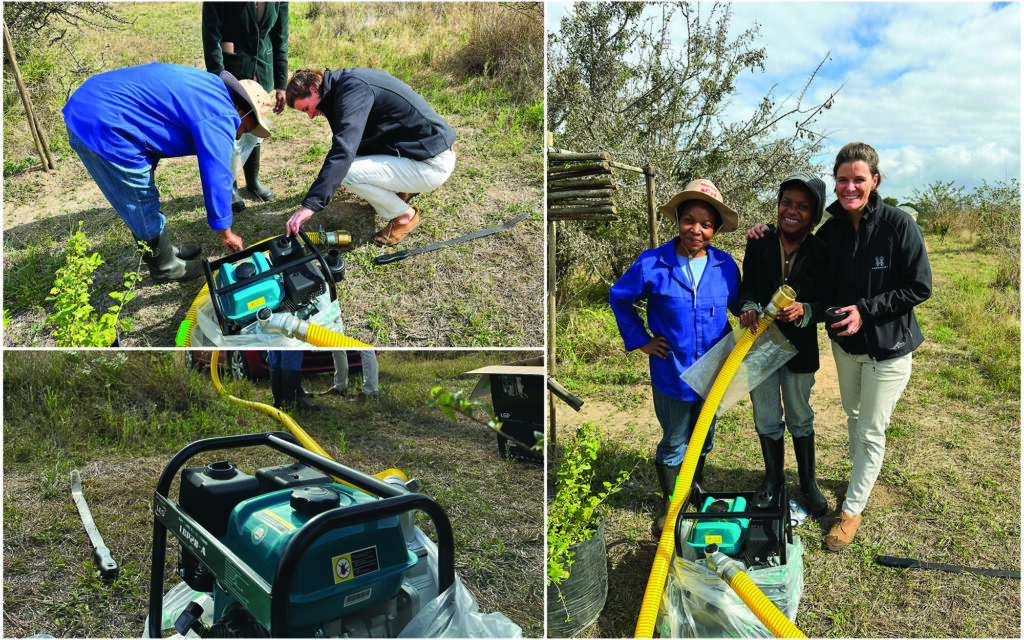 Empowering those around her
Beyond the boundaries of her farm, Nkhensani's ripple effect resonates deeply within her community. As a mentor and a role model, she actively engages with the local community, sharing her knowledge and nurturing a new generation of eco-conscious individuals. Her commitment to empowering women in agriculture is particularly admirable, as she strives to break down gender barriers and foster equality within the field.
The community around here and the villages are all intertwined. I feel a sense of responsibility to give back to my community. Some of the people who help us at my farm used to work with my Dad, or somehow knew him, that really shows me that I'm exactly where I need to be. I would like to empower the locals from my community, and have them work at my farm, upskill themselves so that they too can follow their dreams like I have one day. I would like to empower the women in my community to upskill themselves and learn how to organically farm to provide for their families.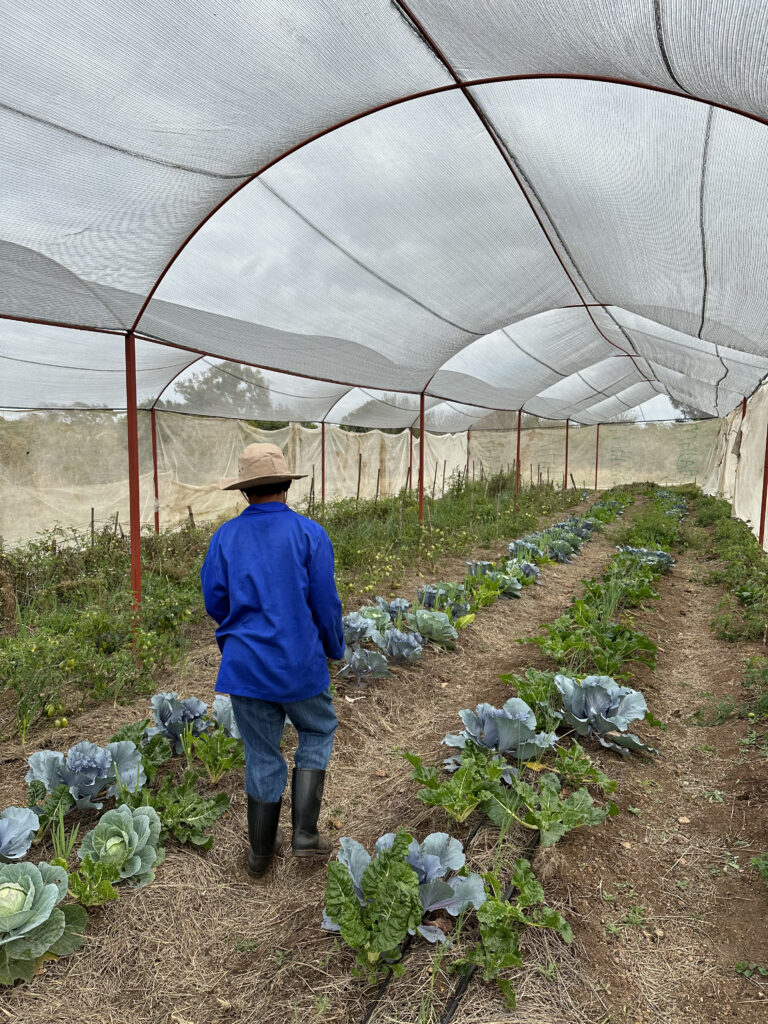 Through the years Nkhensani has learnt an enormous amount about land care practices as well as water management. Her dream is for all farmers in her community to cease using chemicals on their land, she would like to educate them on the benefits of natural farming practices. Her main concern at the moment is the river that flows alongside her farm – which flows right through the Kruger National Park.
By using chemicals on our farms we would then be harming the river, and that harms the animals and plants alike – and that would be tragic. I would really like to encourage the farmers of my community to see how well it works to farm organically.
A beacon of light
I alone cannot change the world, but I can cast a stone across the waters to create many ripples – Mother Teresa
Five years from now, Nkhensani would love to have an organic space for people to travel to and learn how to work and "be one with nature". She would like to see her land be a demonstration farm, where people can come and see the endless possibilities and a working example of organic farming. For the time being, Nkhensani is honing her craft, experimenting and learning each and every day.
By working with nature, you'll be looking after the land, yourself, your family, your natural resources around you, and your community, all while profiting from your efforts. I would like to be that demonstration for the world. We all just need to do our bit. It's how I feel like we can make the change, by teaching just one person about my craft, they can teach the next and the next, and slowly it will ripple out further than just my community. Organic living is about caring for yourself, but also caring about the next person, and from there everything else will follow.
Nkhensani's journey is a shining example of what can be achieved when passion, perseverance, and purpose converge. Through her unwavering dedication to organic farming, she has not only transformed a piece of land but also the lives of those around her. Her story reminds us that each individual has the power to be a beacon of light, illuminating the path towards a more sustainable and harmonious world.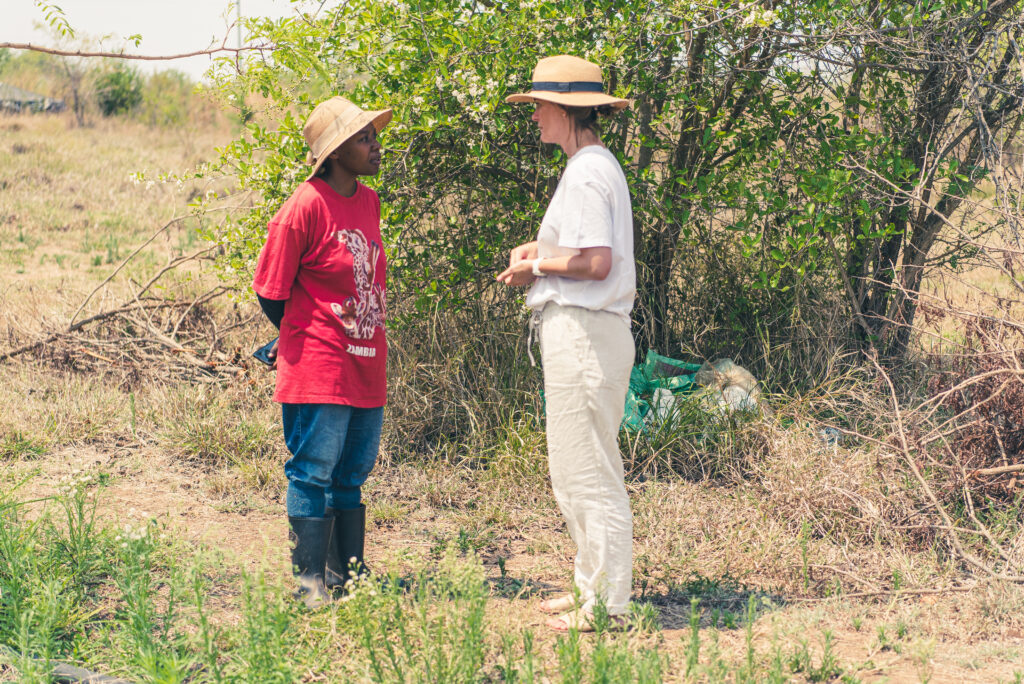 All it takes is a little spark that can spread a wildfire of knowledge to the farmers in my area, all it needs is that little spark, and feel like I could be that little spark – Nkhensani
Incredible.
As we celebrate Women's Month, let Nkhensani's remarkable journey inspire us all to cultivate our dreams, nurture our communities, and create ripples of positive change that extend far beyond our own horizons. Join us in saluting Nkhensani, a true visionary and a beacon of light in the world of permaculture farming.
To learn more about Nkhensani's journey and the Londolozi Ripple Fund's impact, get regular updates through the Londolozi Impact Site or get in touch with us at ripple@londolozi.co.za