On a small road in the communities to the western side of the Sabi Sand Reserve that flows into the huge wild expanse of the Greater Kruger national park , a dusty track, almost too small for anything bigger than an SUV brings you to a piece of land sprouting healthy, verdant green vegetables – so juxtaposed to the aridity of its surroundings. Bright orange marrow flowers decorate lines of healthy courgette plants, and in the already sweltering African morning, a man, bent over a row of fresh spinach, gently tends to his garden. Against all odds, these vegetables have grown from the dry soil. It's a wonder that they grow at all – saved by the care of self-taught expertise, and the gentle spirit of their farmer. These plants thrive and enable him to sell his produce to the community and businesses nearby – Londolozi being one of them. A self-taught entrepreneur – individual and unique – this farmer has the potential to supply hundreds of kilograms of fresh vegetables within a 10km radius of his customers if given the level of support he needs.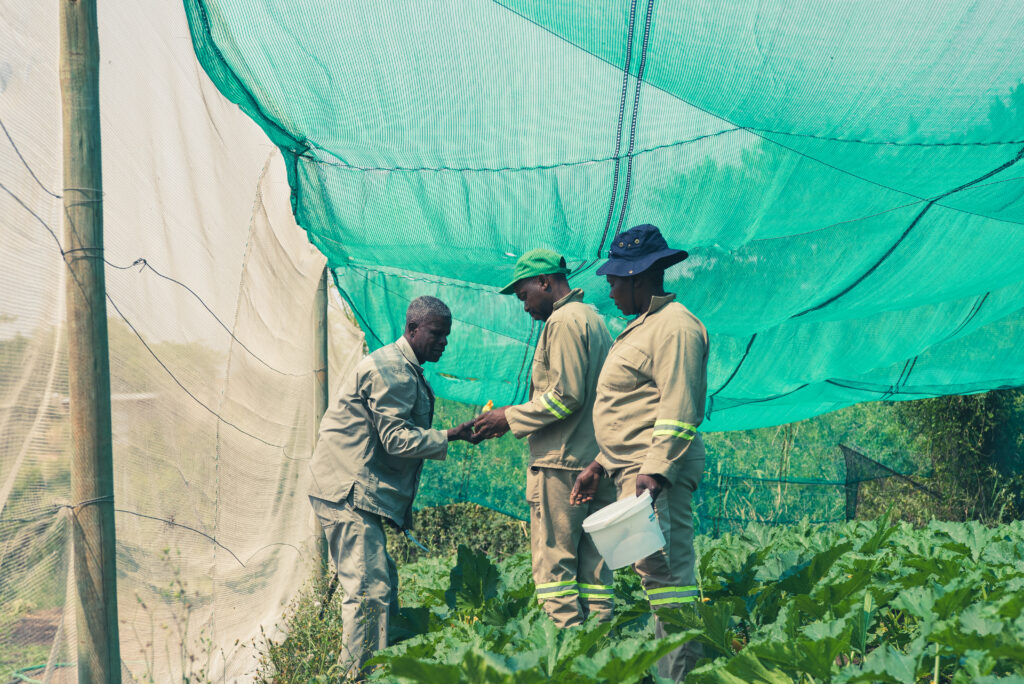 Six kilometers down the road, an almost completely barren, empty plot of land houses the beginnings of a full-scale permaculture farm. While only a small, self-built chicken coop with a brood of happy hens currently laying eggs, there is a vision for the future waiting to unfold. This flock is owned by another independent farmer who, with just a few small sustainable contributions could influence not only his earning potential but the community as a whole. With the basic infrastructure that he has, he supplies Londolozi with fresh, local, free-range eggs. With his years of expertise in the chicken-farming industry, and a will to build a better, more sustainable business for himself and his chickens, this entrepreneur begins his own ripple effect.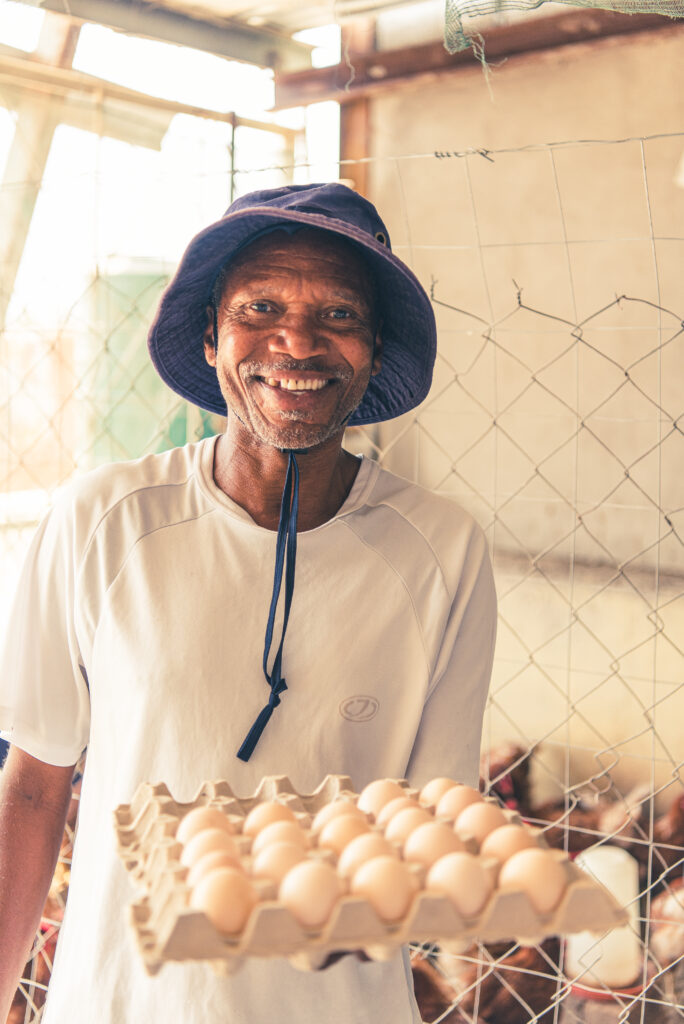 A short distance across the road, on the banks of the mighty Sabi River, a shining star, pioneering the way in organic farming in an area fraught with challenges and a million reasons to take the easy, pesticide-riddled way out, a young female entrepreneur tends a farm that sings. Her complete commitment to not only up-skilling herself but putting into practice the critical skills of permaculture and 100% organic farming has begun yet another important ripple in the area. Through a monthly tutorage by a local permaculture expert, she has begun to influence farmers around her to cease using pesticide sprays on their crops, which in turn has allowed for the river that she uses to water her own vegetables to be clean and completely organic. She can sell, with confidence, her 100% organic produce to the neighbouring communities and local businesses… Londolozi being one of them.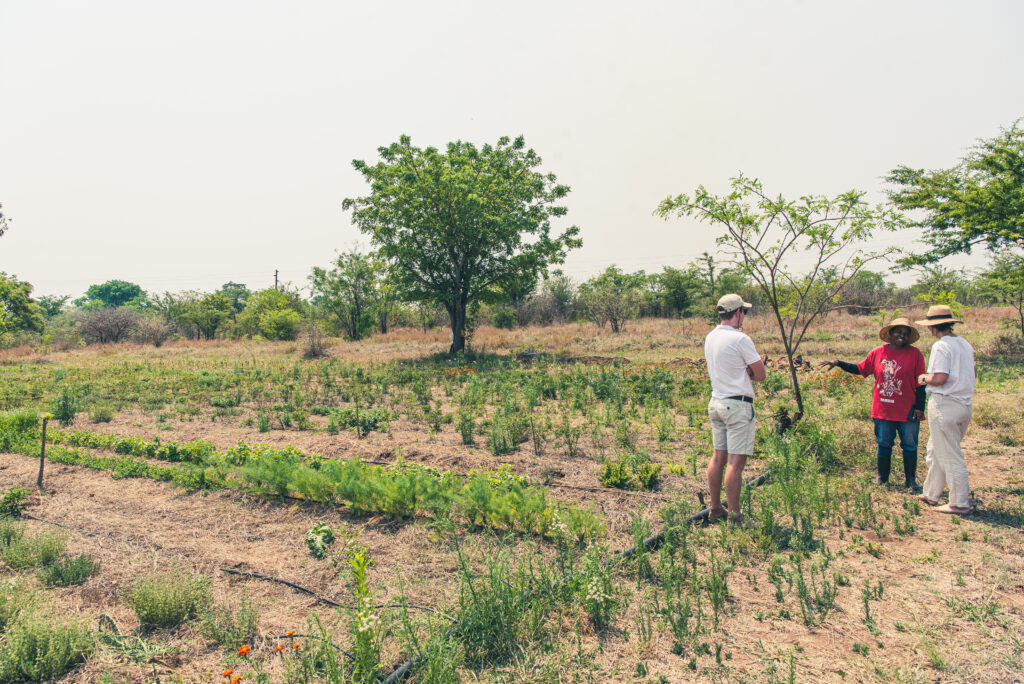 In a nearby community, a young girl walks for 4 kilometers along a dusty road to a bright pink building. As she walks up the steps, she realises that it's not just the physical doors in front of her that are opening. Through the access she has gained to coding, robotics, maths and computer literacy, she has as bright a future as any girl on the planet. This access has been provided by a team of visionary thinkers at the Good Work Foundation, who are constantly on the hunt for new and innovative ways to bring world-class, digital education to the rural communities of Africa.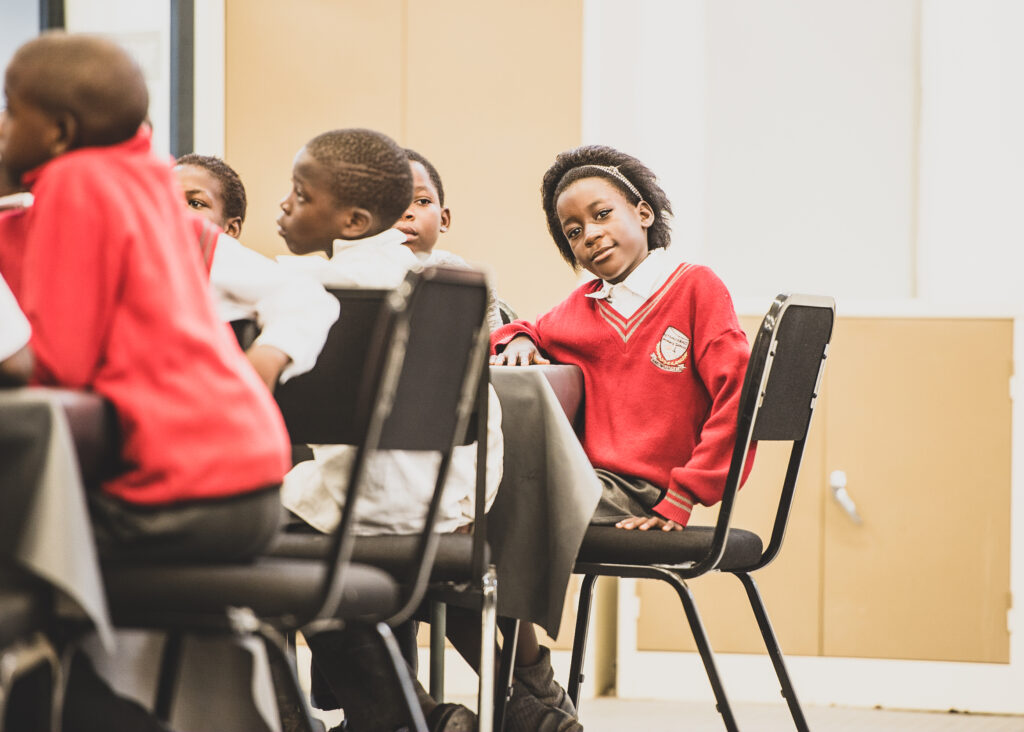 And finally, in the pre-dawn, somewhere on the 15 000 hectares of Londolozi Game Reserve, a group of young men stand still to listen as a lion calls. They set out as the light rises to find the subtle signs of animals in the sand and grass. They listen to the clues that the squirrels and the birds share with them. They piece together a mystery written in the wilderness. Their goal is to learn from those with decades of experience in order to safeguard and preserve not only species of animals that face extinction but the ancient art of tracking itself. These men are from the Tracker Academy.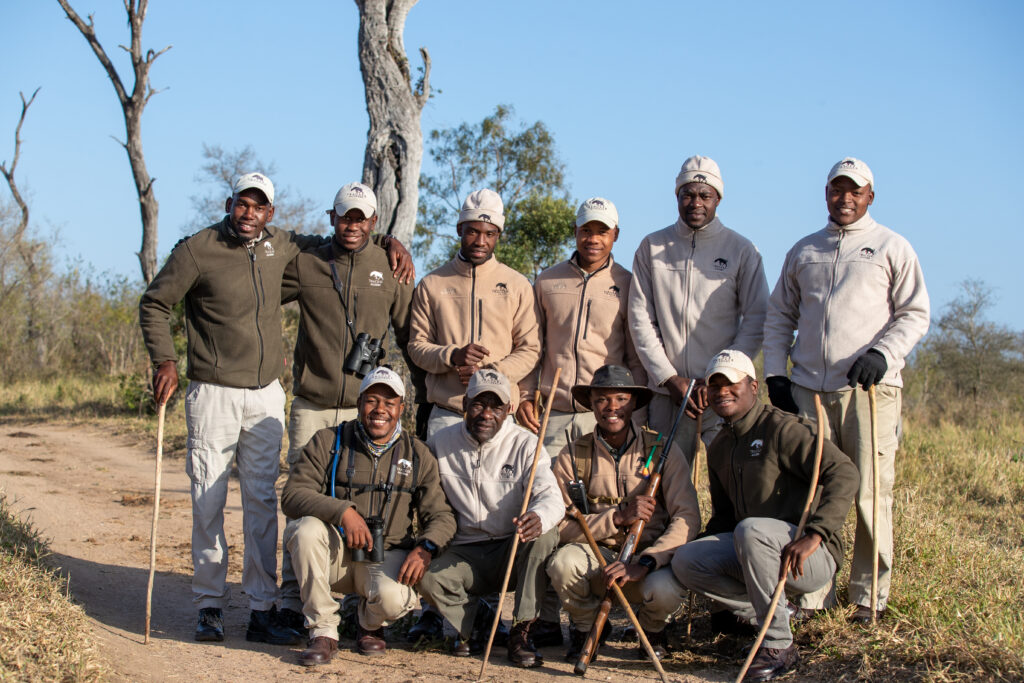 Stories like this are plentiful. These are just a few short examples of local individuals and incredible NGOs who are creating important ripple effects, and changing the way their neighbours, customers, and partners think, feel and act. These individuals and NGOs create their own ripples with the help of each Londolozi guest who visits us.
More than just a luxury safari
Being on safari at Londolozi has, for many years, intentionally become much more than an exclusive luxury wilderness and wildlife viewing experience. As we continue to evolve and reimagine our guests' engagement with nature, we have created time in the day for quieted self, inner peace and stillness in nature. Beyond these immersions and the high-action thrill of viewing Africa's wildlife at close quarters, lies a vibrant, neighbouring human ecosystem of potential. Community upliftment, rural education, healthcare and the creation of safe havens for iconic species and other wildlife to roam freely, are just some of the ways in which your safari is already having a "ripple effect" in the neighbouring villages and families that live in and around Londolozi.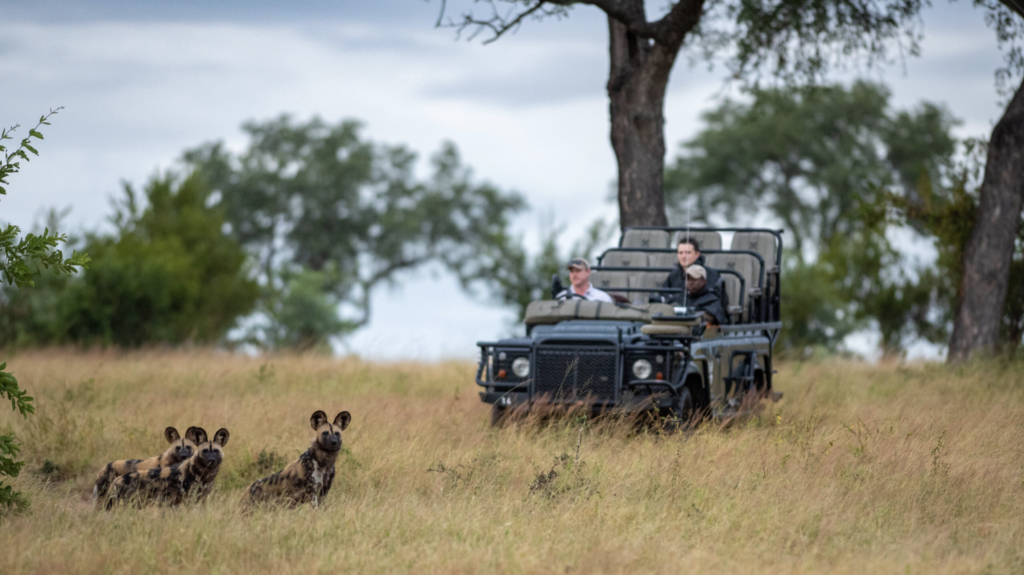 Inspired by the forces of nature, The Londolozi Ripple Fund has been founded on the belief that small actions by a few can create wide-ranging "ripple effects" which have the propensity for changing and improving the lives of many for generations. The fund speaks to individuals and guests who are able and willing to contribute to making a better world ~ 2001, Chris Kane-Berman, Londolozi's Managing Director.
Macro Conservation gives rise to micro-entrepreneurship
2026 marks Londolozi's centenary year, representing 100 years of land care and conservation not just imagined but lived. Over this time, we have witnessed many ideas, successes, failures, and setbacks come and go in our attempts to keep wildlife safe from harm. Large-scale relocation programmes, restoration projects, reclaiming land for nature, fence removals, and river protection is just some of the work that has been done over this past century. We have watched in awe as animals have been moved, saved, and protected. These mega-institutional projects are vital in advancing conservation. They have their place and should continue to be supported. In fact, many of their early beginnings have their roots in The Ripple Fund. Shining examples of these would be the now fully flourishing NGOs of The Good Work Foundation, Tracker Academy, and more recently, The Rhino Guardians – three exceptional NGOs that do important, amazing macro-work, and whom we are incredibly proud to have partnered with over the past decade.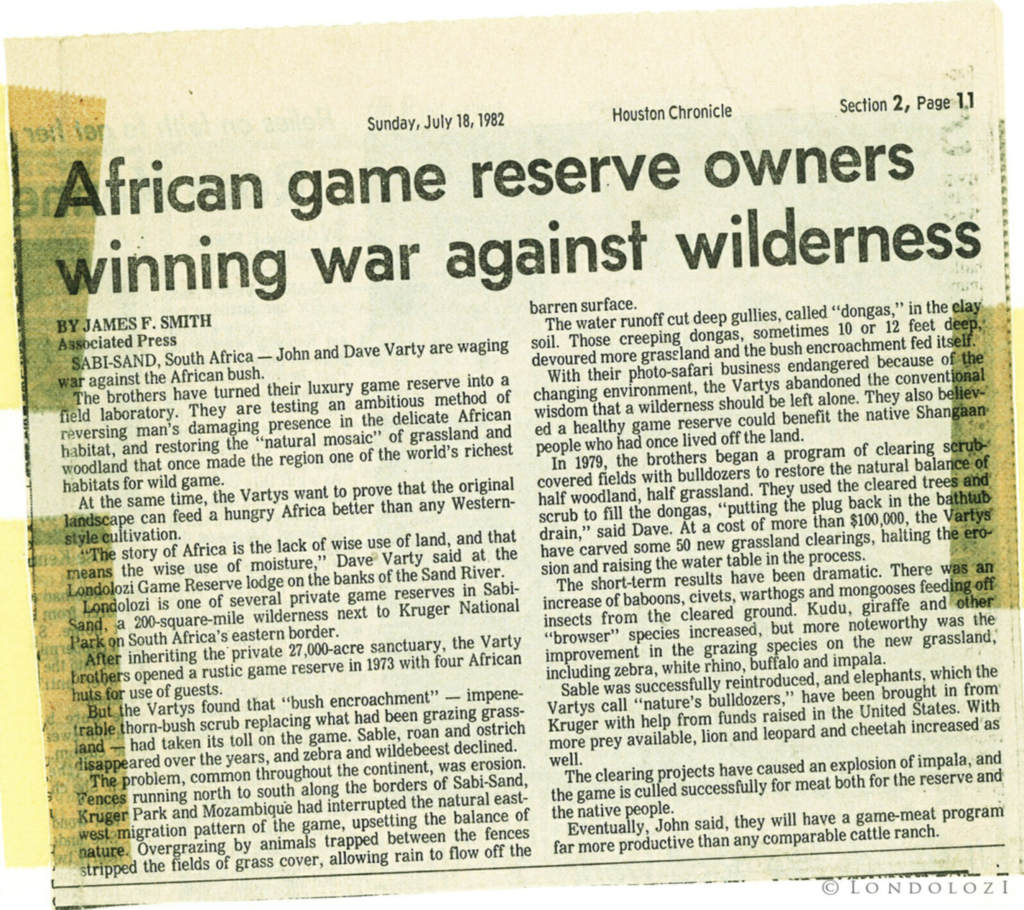 Micro funding creates a macro impact
As a family business, we understand the power and importance of micro-funding before large-scale businesses thrive. For decades, we have established personal, interconnected relationships with the fabric of the people on the ground that live near Londolozi. Ours are small, yet meaningful stories that acknowledge individuals doing amazing work, where micro-funding creates macro impact. The Ripple Fund provides seed capital to empower small businesses, individual entrepreneurs, NGO start-ups, and projects that might normally go unnoticed, flourish with the right level of support.
The very essence of the Londolozi safari business, supported by each guest that visits us, naturally sets in motion a number of virtuous social, ecological and economic cycles. To give greater relevance to our presence in the region we already commit 1% of Londolozi's annual turnover to The Ripple Fund. Many of our guests, after time with us on safari, offer their support to this endeavour by assisting with further funding, thereby accelerating its effect in creating regional economic and social upliftment.
To do this we focus primarily on six broad categories
Restoration – landscapes and mountain river catchments
Innovation – we support entrepreneurs to thrive
Protection – of rhinos and securing safe havens for them and other endangered species by partnering with the Tracker Academy and Rhino Guardians
People – upskilling young members of the families surrounding Londolozi
Leadership – investing in supply chain enterprise development
Education – partnering with the Good Work Foundation in enabling access to higher learning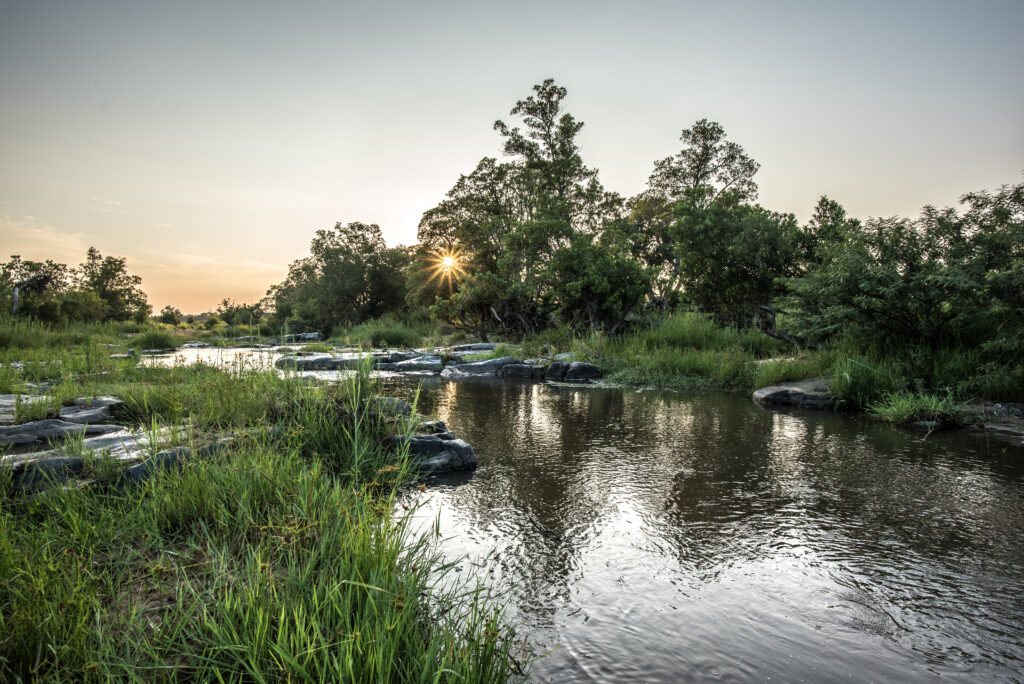 Start your own ripple effect this Giving November
As a Londolozi Ripple Fund supporter, you join a global tribe of people who hold the belief that the restoration of the planet can only come out of a profound shift in human consciousness. By valuing micro impact just as much as macro impact, you begin your own ripple effect. And so, as is the tradition at Londolozi, we celebrate and support a movement called Giving Tuesday, a global generosity movement unleashing the power of people and organizations to transform their communities and the world. It was created in 2012 as a simple idea: a day that encourages people to do good and to be generous – particularly after the mad rush of consumerism during Black Friday. We have extended this concept to the month of November and Londolozi's Giving November campaign continues again this year.
This Giving November, we invite our global Londolozi Family to support the Londolozi Ripple Fund and create your own important ripple. You can choose to support any of our varied causes, whether that be education with The Good Work Foundation, the preservation of ancient knowledge and skills with The Tracker Academy, the protection of rivers, the training, and supply of highly skilled rhino guardians on the ground to counter rhino poaching or the important micro-contributions towards local organic farmers and small business owners surrounding Londolozi. No contribution is too small to make a significant ripple effect.
How to Contribute
*If you would like some more detailed, one-on-one information, or if you would like to make a donation to the Londolozi Ripple Fund and start your own ripple effect, please reach out to us at ripple@londolozi.co.za
Donate to the reimagining education with The Good Work Foundation
Donate to the preservation of ancient knowledge and the creation of safe havens for iconic species like the rhino with Tracker Academy and Rhino Guardians
Stay in the Ripple
To stay connected, we have established a Londolozi Ripple Fund Impact site where you can follow regular updates on projects and donations as they unfold and follow work that has already been successfully completed. If you would like to receive the Londolozi Ripple Fund Impact newsletter, please let us know on ripple@londolozi.co.za
In the words of Margaret Mead – Never doubt that a small group of thoughtful, committed citizens can change the world. Indeed, it is the only thing that ever has.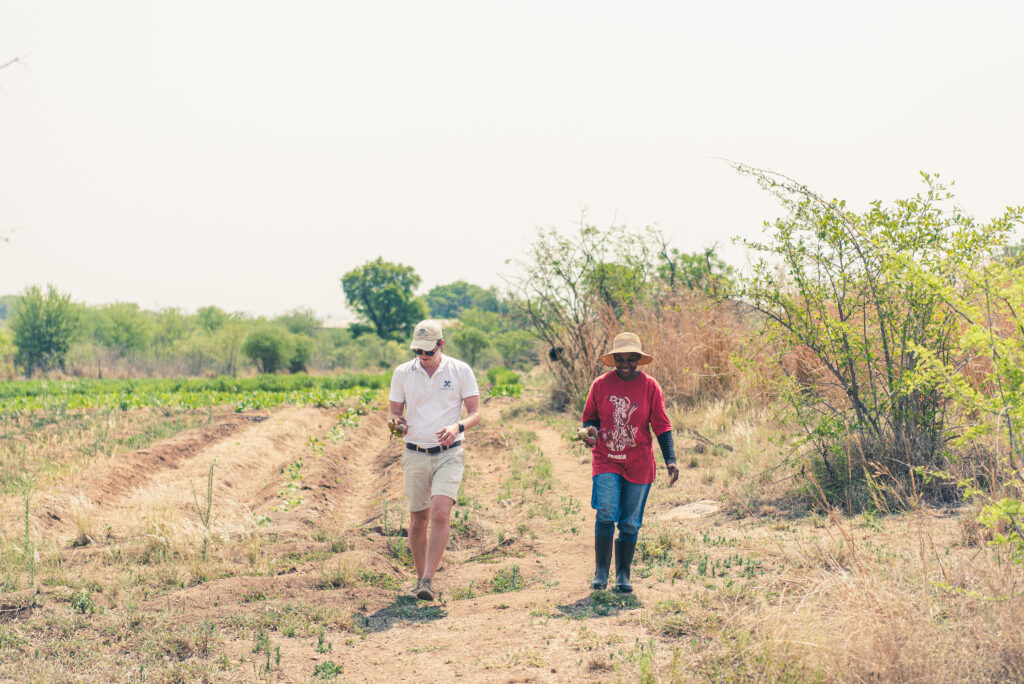 *The Ripple Fund is a private fund that Londolozi administers and provides seed funding without taking any fees. Your entire contribution will be provided to the cause that you choose. Should you require a tax certificate for your contribution, please donate to one of our two official NGO partners, The Good Work Foundation or The Tracker Academy.